Hi!
In this short article i'll try to tell You about basik (TTA) equipement of soviet soldier.
At first, i tell about
l'equpement et l'armament
(hope, i wrote right
)
Belt [Ремень (Remen)]:
It's ordinary army belt, combat type (belt bucklet painted, in other version bucklet not painted, and soldier must to grind it until "mirror brilliance").
Can be made from real leather.
Suspenders [Подтяжки (Podtyazgki)]:
I can't say something special about this.
Canteen [Фляга (Flyaga)]
Soviet army canteen not change from Second World War. Maybe, now in not made fom glass. That's only upgrade.
Canteen later type:
That kit is wery successful and comfortable.
Mag pouche (chargeaurs) [Подсумок для магазинов(Podsumock dlya magazinov)]
Old type:
Cohsist three AK mags, bottle with gun oil and cleaning kit.
that's old type bottle [
маслёнка
(maslyonka)] have two separations: for lye and neutraliser.
Later type: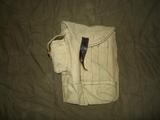 Four separations. Three for mags, and one for ammo clips. Bottle of new type. Cleaning kit in AK74 kept in stock.
Backpack or Knapsack [Вещмешок (Veschmeshock)] or colloquial name - SIDOR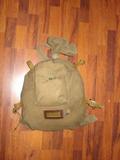 Very old model, usig fom First World War, now still in army with a little upgrades - pouche, chest belt and four slins to fasten a winter coat.
Maybe, enough for first.
If You have a questions, post in this topic. Please, write in English.
To be continued...